devcom digital is your year-round experience
We enjoyed every single second of devcom last year.
And we realized that coming together only once a year for just 3 days to engage with our community simply doesn't cut it.
This feeling eventually sparked the process of rethinking the concept behind devcom, of making it more than just a digital version of "the official game developer conference of gamescom", but rather a 365-day experience. A chance to grow and nurture our community and make devcom this community's get-together space throughout the whole year.

When COVID-19 hit the world, it changed our everyday lives in what feels like a heartbeat, and we – like everyone else – had to adapt. More importantly though, it gave us the chance not only to pursue some of our already long-planned digital concepts, but to focus completely on their realization.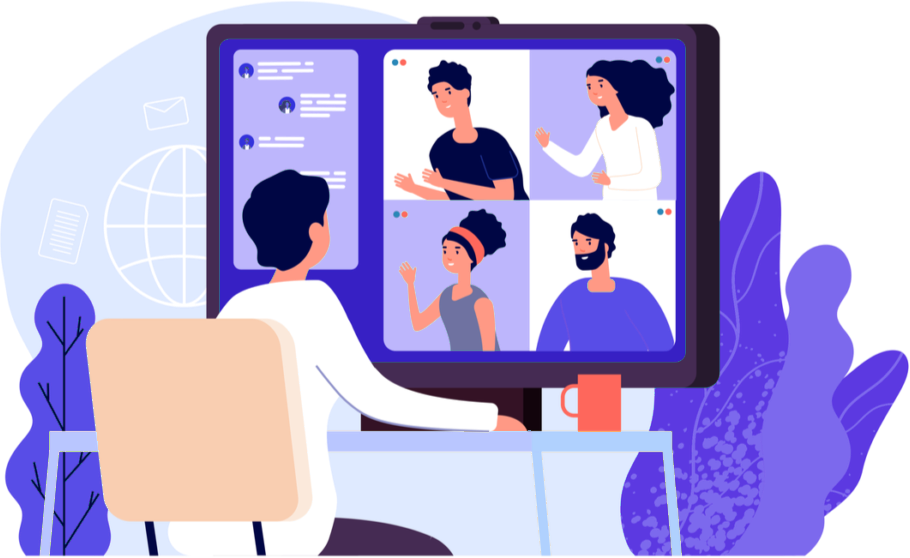 devcom 365 & devcom digital conference 2020
devcom digital conference 2020 (#ddc2020) is a two-week digital event full of matchmaking, talks, meetups and digital exhibitions, running from 17 to 30 August, 2020. It focusses on game developers and their eco-system.
devcom 365 is our new digital year-round online service, which brings you a whole lot of free content on Twitch, offers you tutorials as well as top quality master classes, podcasts on Patreon.com and many other unique services 365 days a year.
This website will soon be expanded, with more information on all our shows and formats, a detailed schedule and much more.
Get in-depth insights into devcom's hottest topics, delivered to you by international and local experts from the games industry.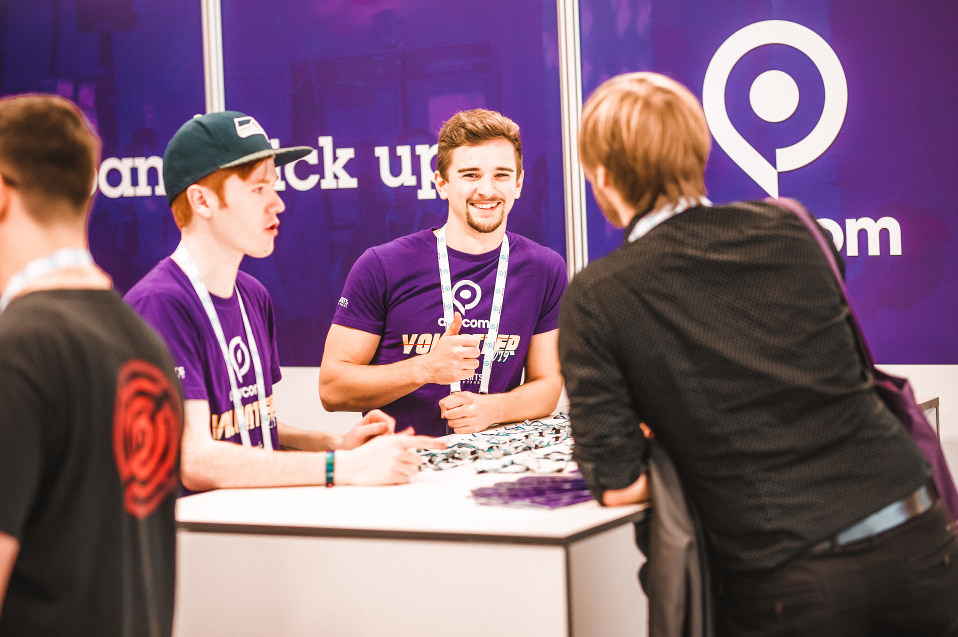 We have made it our mission to offer a welcoming, harassment-free experience for everyone at our events. With this in mind, the following behavior is expected:
Be collaborative before conflicts arise.

Refrain from aggressive or demeaning behavior and speech.

Be mindful of your surroundings and others around you.

Alert conference organizers if you notice a dangerous situation, someone in distress or any violation of our anti-harassment policy.
If you are being harassed, notice that someone else is being harassed, or have any other concerns, please let our Event Management team know immediately.
Please contact Astrid Gooding on +49(0)170 3040354 (or astrid at devcom.global) at any time, or by anonymous form.
We value your efforts to help us in creating safe, welcoming, and professional spaces for everyone.
If you are being harassed, notice that someone else is being harassed, or have any other concerns, please let our Event Management team know immediately.
Please contact Astrid Gooding on +49(0)170 3040354 (or astrid at devcom.global) at any time, or by anonymous form.
We value your efforts to help us in creating safe, welcoming, and professional spaces for everyone.
devcom Core Advisory Board
The devcom Core Advisory Board is diverse and international. It consists of hand-picked industry experts whose daily business is the process of game developing. With their help and expertise, we've created a framework for the devcom program which is specifically tailored to the needs of today's game development community – from indie to AAA.
Katya Dolgova
COO Redhill Games
Ekaterina (Katya) Dolgova is a Human Resources professional, facilitator and trainer with 20+ years of experience in Financial, Consulting, IT and Gaming industries.
A lawyer and Chartered FCIPD by background, Katya has been working in the HR field since 1995. During her career.
Katya successfully completed over 15 acquisition deals across EMEA; opened 11 new locations in Russia, CIS, Eastern and Central Europe, Africa and China; facilitated employees' representatives, Works Councils and Trade Union negotiations across Europe; hired more than 300 professionals and over 70 executives; developed and run employee engagement programs, assessment and development centers; leadership and culture transformation campaigns.
Now in January 2019 Katya works at Redhill Games as a COO and in her free time runs a Management Consultancy "It Starts With You, Ltd". Previous experience includes Wargaming, Cisco Systems, First Data Corporation, Western Union, KPMG and JSCB "Contact". She has been working with employees, leaders and local authorities in 177 countries.
Katya's educational credentials include:
MS in Linguistics from the Moscow State Pedagogical University in Moscow, Russia
MS in Law from the Moscow Open Social University in Moscow, Russia
FCIPD from Manchester College of Arts and Technologies in Manchester, UK
LCOR certificate from Stanford in Stanford, CA, USA

Katya lives in Nicosia, Cyprus.
Benedikt Grindel
Studio Manager Ubisoft Blue Byte
After acquiring a master's degree in Mathematics with a minor in business and a short adventure in the carpet manufacturing industry, Benedikt Grindel joined Ubisoft's German subsidiary in 1998. With positions in Marketing, Business Development, Production and Operations, he has been involved in many different aspects of the industry. Among the games he worked on, The Settlers series holds a special place: Benedikt was producer of this classic PC strategy game brand for more than nine years. Since 2014, he is responsible for Ubisoft Blue Byte. As the Managing Director, Benedikt oversees 425+ employees in three studios in Düsseldorf, Mainz and Berlin, working on brands like 'Anno', 'The Settlers', 'Rainbow Six: Siege', 'Beyond Good and Evil 2', 'Far Cry', and many more.
Lars Janssen
CEO Travian Games
Lars is currently leading the Munich-based games developer & publisher Travian Games as CEO. With his business background, he joined the company as Product Manager in 2010 after gaining experience on other projects in the games industry for a few years. Since then, he's worked his way up and – being one of their own – earned the respect and trust from his peers along the way. Since January 2018, Lars also serves as Member of the Board at game, the German games industry association. Lars believes passion is contagious and focuses strongly on building and coaching enthusiastic teams with talented, diverse, inspirational, and all-around awesome people. He enjoys thinking outside the box and is rarely fond of the status quo. When Lars is not busy with the games industry, he enjoys spending time with his three-year old daughter practicing persuasion techniques. As he considers himself an honorary Texan, y'all might well run into him wherever there's good barbecue in his second home, the Austin-area.
Deborah Mensah-Bonsu
Content Lead Space Ape Games
Deborah is a media professional with a decade of experience, first as a print and tv journalist and then as a producer and content guru in games. She leads on Space Ape's content and community engagement - regularly shaping and safeguarding the voice, brand and culture of the studio. Before joining Space Ape she was part of the editorial team at Xbox Upload. She's an advocate for women in games and is passionate about the cross-section between games and education. She spearheads the company's student mentoring program, Space Ape Varsity, and is committed to developing future talent both at work and through various not-for-profits. She loves this industry, good film, bad tv, and sparkling juice drinks.
Audrey Leprince
President & Co-Founder The game Bakers
President Women in Games France
Co-founder of The Game Bakers, a French indie studio striving to make games that players will remember, like Furi and Squids. She is in charge of executive production, some narrative, business and studio management. She started as a game designer for Quantic Dream then producer for Ubisoft, 6 years in China. She now lives in Sweden. She created Women in Games France in 2017.
The Game Bakers presentation: We are an independent game studio founded by Emeric Thoa and Audrey Leprince, former AAA developers. To sum it up we say we make games like we cook food: with a lot of love. We want to create that experience that you remember, that you have fantasies about long after the game is finished, that makes you feel alive and energized. Our studio is "a studio in the clouds" as we work with a team of great collaborators around the world. Our portfolio includes our adrenaline-fuelled boss-fight only game Furi for PlayStation4, Switch, PC and Xbox One, our underwater tactical RPG Squids Odyssey on Switch, mobile and PC, and Combo Crew our modern take on old-school brawlers on mobile.
Pawel Rohleder
Chief Technology Officer Techland
Pawel is a highly experienced developer, leader and video games enthusiast who is keen on new technologies. Right now he's working on shared technology for two amazing AAA titles @ Techland (Dying Light 2 and another big unannounced AAA project). He has over 15 years in the game development industry, of which the last 12 years are with Techland (known from Dying Light, Dead Island, Call of Juarez) he participated in both original DLs, both DIs and all four CoJ games from start to finish. Thanks to that, he has experienced almost every part of game development, from concept creation to QA.
Pawel is a regularly invited and highly experienced speaker at 60+ gaming and technology conferences. Currently he manages a team of 50+ technology professionals developing cutting-edge technology and systems for games across multiple platforms. He's crazy about synergy between technology, science, business and art, and he even did a PhD to prove such synergy exists.
He loves new challenges and taking on "the impossible".
Philipp Schellbach
Co-Founder & Director of Development YAGER
Philipp Schellbach is a co-founder and the Director of Development at YAGER, a game development studio based in Berlin, Germany. Founded in 1999, YAGER is best known for the critically acclaimed 'SpecOps: The Line', 'Dreadnought' and their upcoming game 'The Cycle'.
In the late 1980's Philipp discovered his passion for games and technology when he got his hands on his first computer, a C64. After going on to complete a degree in computer engineering in 1998, Philipp started as an engine programmer at YAGER and later became the Technical Director of the studio. However, as the company has grown over the years his responsibilities have shifted, and his primary focus is now on the internal organization of the studio's projects and resources.
devcom Strategic Advisory Board
The devcom Strategic Advisory Board is a fine selection of influential games industry representatives from around the globe. They support devcom with decades of hands-on experience, primarily with regard to strategic and organizational matters, such as the "devcom HEROES Awards", Women in Games, as well as mentoring sessions and other side events.
Kate Edwards
CEO & Principal Consultant Geogrify
Kate Edwards is the CEO and principal consultant of Geogrify, a consultancy which pioneered content culturalization, a Board Member of Take This, and is the former Executive Director of the International Game Developers Association (IGDA) from 2012 to 2017. In addition to being an outspoken advocate who serves in several advisory/board roles, she is a geographer, writer, and corporate strategist. Following 13 years at Microsoft, she has consulted on many game and non-game projects for BioWare, Google, Amazon, Facebook, and many other companies. Fortune magazine named her as one of the "10 most powerful women" in the game industry in 2013 and in 2014 was named by GamesIndustry.biz as one of their six People of the Year. In 2018, she was honored with Reboot Develop's Hero Award and IndieCade's Game Changer Award. She is also profiled in the December 2018 publication Women in Gaming: 100 Professionals of Play.
Alessandra van Otterlo
Owner of Control Magazine
Alessandra van Otterlo is the owner of Dutch online trade journal Control Magazine and the driving force behind Control Conference. She is co-organizer of the European Game Showcase that takes place every year during GDC in San Francisco. Alessandra started her career in the games industry back in 2004 and she has worked for media, publishers, developers, and non-profit organisations.
Phil Elliott
Head of Indie Publishing Square Enix Ltd.
Phil created the concept for Square Enix Collective in 2013, and has spent the last few years building it up from scratch to offer a range of services for indie developers around the world. He's often seen at various developer conferences or industry events throughout the year, and also runs the Community team for Square Enix projects based in London. Prior to joining Square Enix, Phil ran GamesIndustry.biz for four years, with stints at GameSpot and BBC 5Live before that.
Tsahi Liberman
Veteran Game Developer & Designer, Head of Marketing & BizDev for Simpool, Head of Tiltan School for Game Development & Design, International Relationship Manager for GameIS, and many more
His entire lifetime, Tsahi was involved, officially and as an indie, in game design, development, team management, cyber security, play-testing and enjoying games, of all kinds. For over 15 years, he has been connecting the Israeli games industry with games industries around the world. Tsahi also leads the biggest game design and development school in Israel (Tiltan) and is the Head of Business Development and Marketing at Simpool, a Game Economy Prediction and Optimisation Platform of LTV. In between, Tsahi is creating games and activities for conflict management globally, and loves to talk about it.
Susan Gold
President of Global Game Jam
Susan Gold is an American scholar with an academic career that spans 20 years in higher education. She is a proven leader, facilitator, collaborator and activist. She is the creator of the much loved Global Game Jam®, the annual event that brings together over 47k game developers from around the world for one creatively explosive weekend of fun and innovation. Recently, (July of 2018) Susan launched a new extension of the event called GGJNEXT®, a game jam and curriculum for young creators age 12-17. She is widely regarded for her expertise in the areas of game education & game design, game jams, community development and large scale collaborative projects.
Ms Gold is a skilled facilitator at bridging art, science, technology, industry & academia. Her ability to utilize her expansive network helps weave together large international audiences and projects. Currently, Susan has been fortunate to explore numerous opportunities working with global educational systems as well as international & federal agencies. Susan works to foster and nurture growth among the development community around the world through the Global Game Jam non-profit. Susan is drawn to the diversity that makes up the global independent game development community.
Susan moved to Boston in 2013 where she was Professor of the Practice at Northeastern University. Susan is an artist, designer, author, activist with a specialization in digital arts and media primarily focused on video games. Interested in community based projects that bring together the most creative minds and experimental thinkers, Susan says, "innovation through collaboration" is her mantra. As a veteran and leader in the video game industry, she sits on numerous advisory boards, working groups and non-profits boards.
Marco Accordi Rickards
Journalist & Writer, Founder & Executive Director VIGAMUS Foundation
Journalist and writer Marco Accordi Rickards is VIGAMUS Foundation's Founder and Executive Director. He's in charge of VIGAMUS, the Video Game Museum of Rome and business unit VIGAMUS Academy, while being in the advisory board of Gamerome Developers Conference. He teaches Video Game History and Journalism at the University of Rome "Tor Vergata" and is Extraordinary Professor in Link Campus University, at the helm of gaming-focused Bachelor's and Master's Degrees. A founding member of EFGAMP, the European Federation of Games Archives, Museums and Preservation Projects, he has published books for Mondadori, Carocci and is currently working for RAI (Cartoons on the Bay Festival) and Enciclopedia Treccani.
Don Daglow
JTechnical Emmy®, 3-time Inc. 500™ CEO, Sr. Director, Strategic Partnerships, The Strong & President, AIAS Foundation
Don Daglow is a three-time Inc. 500™ CEO, a pioneering game designer and 2008 Technical Emmy® Award recipient whose career spans the history of the games industry. Teams have shipped over $1 billion in products under his leadership.
He advises game companies and software startups, coaching both new and experienced CEO's and teams facing the challenges of game development, team-building, studio management and change. His clients range from small startups to large international publishers, and he also advises The Strong Museum and serves as the volunteer President of The Academy of Interactive Arts & Sciences Foundation, the charitable wing of the Academy.
He is the only executive in the history of the games industry who has held leadership positions on every generation of video game consoles, from 1980 to the present. In 2003 he received the CGE Award for "groundbreaking achievements that shaped the Video Game Industry," and in 2018 he was added to the Wall of Fame at the Computerspielemuseum in Berlin.
Along with John Carmack of id Software and Mike Morhaime of Blizzard Entertainment, Daglow is one of only three game developers whose work has been honored at both the Technology & Engineering Emmy® Awards and at the Academy of Interactive Arts & Sciences DICE Awards.
As an engineer working on mainframe computers, Daglow also created key early milestones in the development of chatbots (ECALA, 1972) and the machine translation of natural language (Spanish Translator, 1977).
Kirk Lenke
CEO & Founder of NUKKLEAR
Kirk (*1971) has been working on games since 1999. In 2007 he took over Reakktor Media GmbH, continued the world's first MMOFPS Neocron and released Black Prophecy, another MMOFPS worldwide. In 2011 NUKKLEAR - DIGITAL MINDS was founded. This was followed by several commissions for PointMMO, Deep Silver, SCEE, Spectacle Games, THQ Nordic, Sturmkind and many more. He was also an advisor to bib Hannover, which was successfully launched its first degree course in the field of game development. Beside this he is an Shareholder and Consultant to the Global Games Industry Network which was launched back in 2018.
Alen Ladavac
CTO Croteam
Alen Ladavac is leading the technology team as well as working on all aspects of Croteam games since 1993. Now mainly heading the efforts on Serious Sam 4 development, his previous work includes the world-famous Serious Sam franchise and critically acclaimed The Talos Principle, as well as a series of console, VR and mobile versions of those games. His broad range of interests and experience spans all technical areas of the game development, from rendering, sound and physics, to networking, build systems and content pipelines.
Simay Dinç
Game Producer & Co-Founder at Recontact Digital Arts Co., Women in Games Turkey
She is the co-founder of Recontact and game producer of award winning Recontact:Istanbul mobile games series.
She is an executive board member of OYUNDER, which is a non-profit association founded for the purpose of supporting and representing Turkish Game Industry as well as the founder of "Women in Games Turkey" that aims to incorporate the energy and creativity of women to this industry. Simay was the finalist of the 'Creative Impact Award' of the year at MCV Women in Games Award in 2018
She is the finalist of 'European Women in Games Hall of Fame Awards' 2018
She is also a new generation angel investor in the "Rising Tide Europe" focusing her resources to social impact and creative industries. She believes that game is the cultural and art industry of 21th century. She continues to produce at full speed on the path we started with the motto of creating playable arts. Simay has been chosen one of the four women leader to Women and Leadership program in Arts & Culture by British Council in 2018 (three year program)