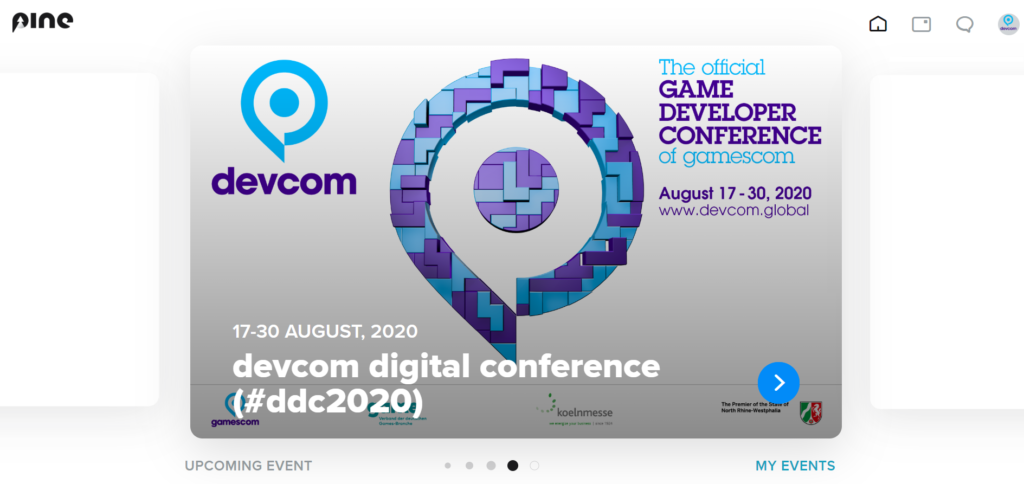 The official event & matchmaking app of devcom digital conference 2020, PINE, will open on July 17.
Once PINE opens, an email will be sent from PINE (hello@pinetool.ai) to all registered attendees with their unique access to #ddc2020.
The email will include a link to your unique personal #ddc2020 account. You will be asked to set up a password before entering #ddc2020.
If you do not receive the email or if you do but you are not the one attending #ddc2020, please contact us at roufina@devcom.global!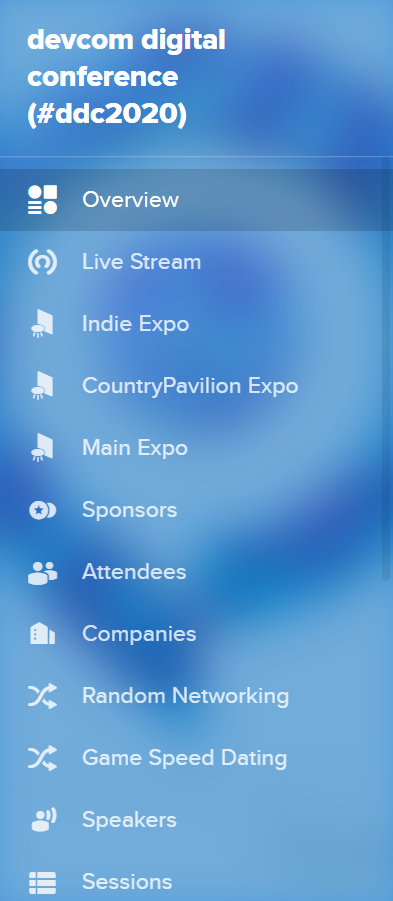 Navigating around #ddc2020 is easy from the main menu. Here is a quick description of what you will find:
► Overview: landing page and snapshot of all #ddc2020 activities!
► Live Stream: access to #ddc2020 official program
► Indie Expo: meet our 60 indies teams that have been selected to showcase their games at the NRW Green Virtual Indie Expo!
► CountryPavilion Expo: browse through our country pavilions representing developers from all around the world!
► Main Expo: take a look at our diverse virtual exhibitors composed of game publishers, game developers and service providers!
► Sponsors: don't miss our #ddc2020 sponsors – check out who they are!
► Attendees: dive in to the #ddc2020 attendee list and use filters and key words to find business partners and friends!
► Companies: it can sometimes be easier to search by company name!
► Random Networking: join one of our Random Networking Events and experience random matchmaking among all #ddc2020 attendees!
► Game Speed Dating: developer and publisher match-up where you have 5 mins to pitch!
► Speakers: get to know #ddc2020 speakers and make sure you don't miss their talk!
► Sessions: #ddc2020 official program at a glance!
One of the key features of #ddc2020 is the virtual booth. It offers a unique way to present yourself by hosting your own stage where you can hold demos, presentations, talks or simply go live and talk to our audience! You can add live or prerecorded videos or external YouTube or Twitch videos.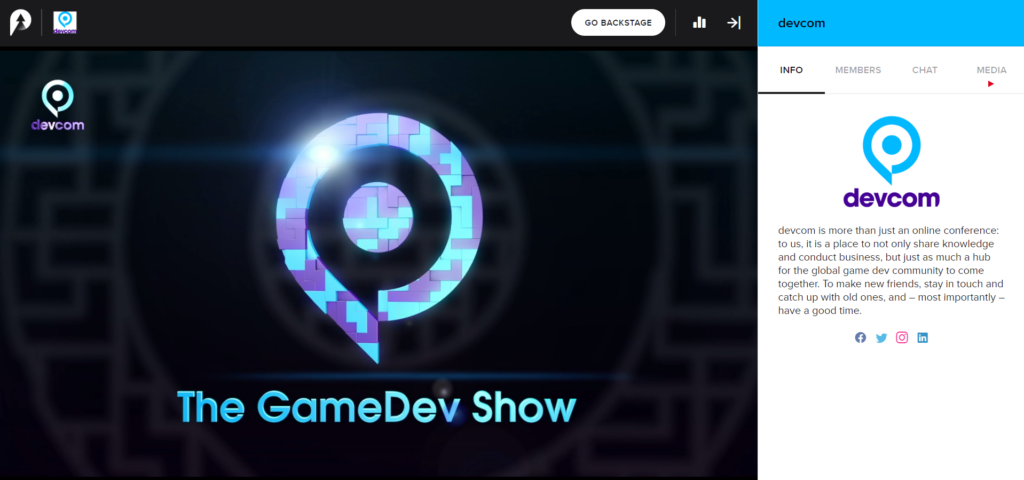 Brand your virtual booth with:
Your logo and a short description

Social media channels and handouts (decks and brochures to download)

Your media and video materials: banners (jpeg or png) and videos (mp4)

A public chat with notifications

An agenda with all your presentations that can be bookmarked by attendees

A Lead Access info where you can see all your past and current booth visitors!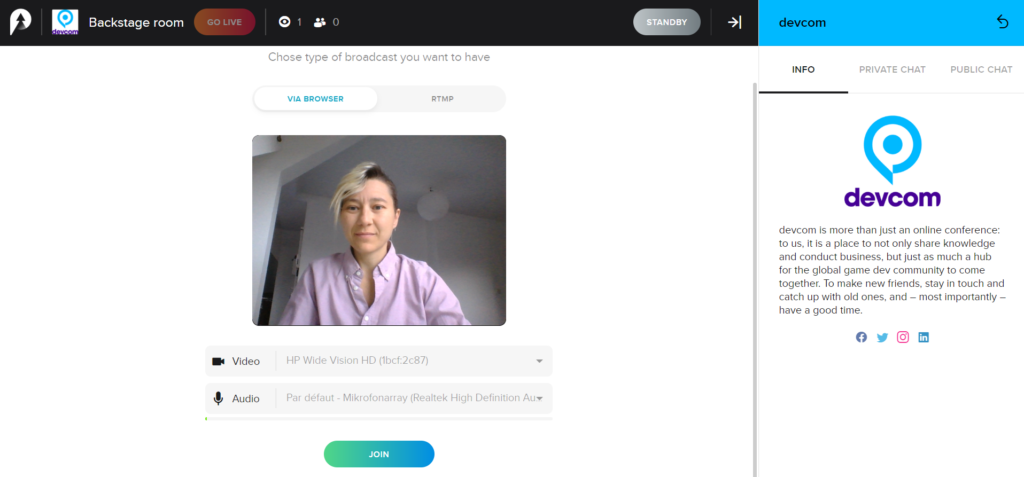 The virtual booth also allows you and your team to go live and talk to your audience. Imagine getting together with your colleagues on your devcom booth for a coffee or a well-deserved end-of-the-day beer. Sounds familiar and feels a bit nostalgic? The virtual booth makes it possible while respecting social distancing guidelines. 😉
Click 'Go Backstage', check your audio and video settings and then click on 'Go Live". Your visitors will be even able to join you live by clicking on 'Participate' and chat with you directly on camera!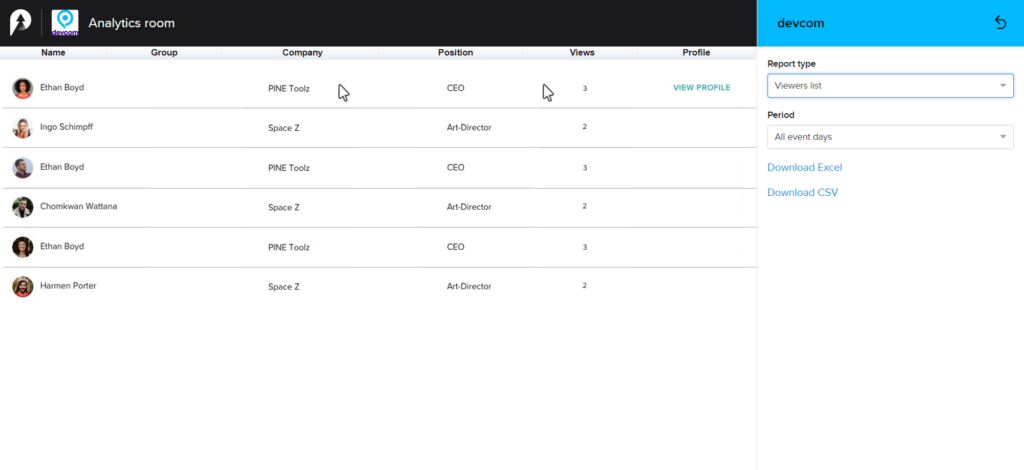 Lead access and generation is key when attending a conference, especially if you're an exhibitor. With the virtual booth you can see who has been or is on your virtual booth!
This makes it really easy to book a meeting with these potential business partners. You can of course download your visitor attendee list for later use.
Only publicly-available information that corresponds to the visitor 'badge' information will be displayed: name, company and position.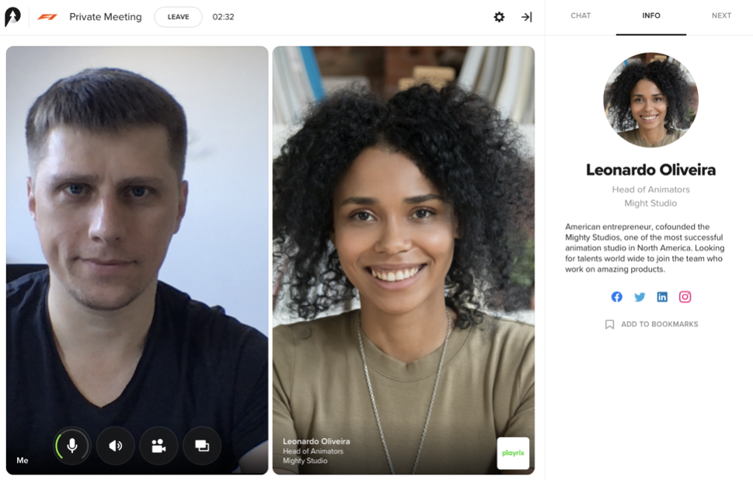 Book all your meetings within PINE! There's no need for external matchmaking or video conference software – it's all in the #ddc2020 app!
Key features of 1 on 1 meetings:
Video integrated – no need to download any other software or exit #ddc2020!

Add a team member or any other attendee just by typing their name

Mute audio or turn off the camera

Meeting reminder (prior to meeting), meeting timer (during meeting) and meeting time extension for meetings that run on past 30 mins

Live chat
Game Speed Dating & Random Networking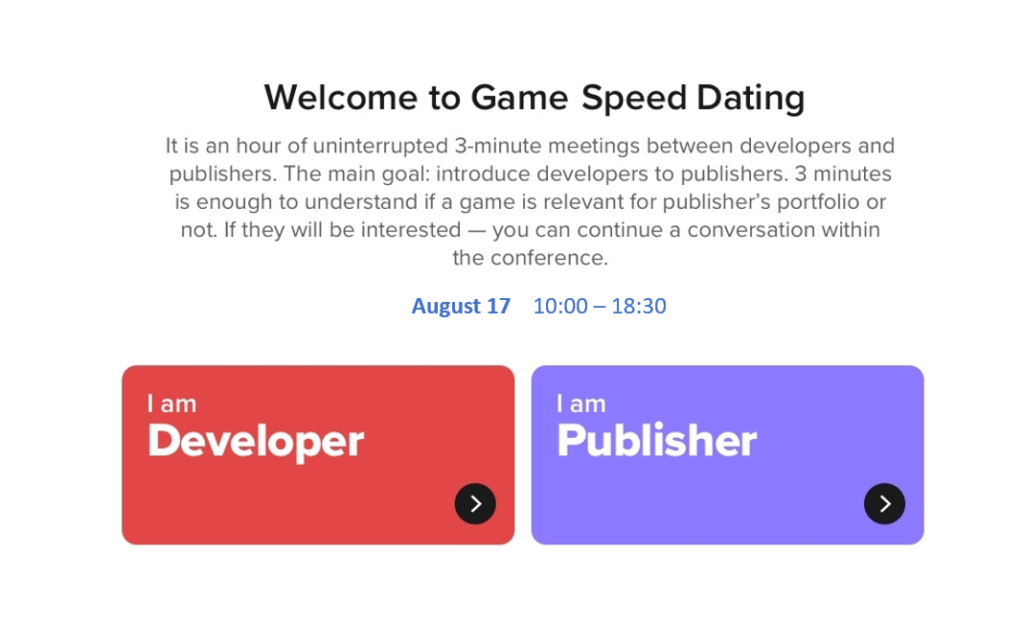 Game Speed Dating or Random Networking are two great features for meeting new business partners really fast ! Each pitch lasts 2, 3 or 5 minutes!
Game Speed Dating is a developer & publisher pitch tool while Random Networking is a seller & buyer matchup space.